Rail Logistics Europe (SNCF Group) rationalises its IT system with SAP S/4HANA Public Cloud and VISEO
Rail Logistics Europe and VISEO have implemented the SAP Activate methodology and the Fit-to-Standard approach to create a core model that served as the basis for deploying SAP S/4HANA Public Cloud in more than 50 subsidiaries. All in just two years and a half.
Within the SNCF Group, Rail Logistics Europe develops customised multi-modal goods transport solutions for use across the whole of Europe.
Rail Logistics Europe harnesses the expertise of 60 subsidiaries in Europe: freight forwarders, railway carriers, combined transport operators and rolling highway operators. In all, 3,500 people contributed to achieving a turnover exceeding 952 M€ in 2019, with over half generated abroad.
Keen to have its own IT system
Rail Logistics Europe initially opted for different IT systems provided by Geodis to accelerate the integration of the various entities within the group. While effective, these tools were ageing and not fully aligned with the company's needs. Incidentally, some of Rail Logistics Europe's subsidiaries had their own financial IT systems. Not only were different IT systems used, but also different management rules.
Rail Logistics Europe wanted to have its own IT system – a reliable, efficient and harmonised solution with a common benchmark for management rules. "To create value and deliver the desired productivity gains, it seemed necessary to inject a certain level of uniformity and rationalisation in our application environment, and to do so quickly," Nicolas Bismuth, Head of Finance Project Management at Rail Logistics Europe, explained. The company wanted to deploy this new ERP across all its subsidiaries in the areas of finance, procurements and sales within a timeframe of just two and a half years.
Following a project definition phase that consisted in collating each subsidiary's needs, Rail Logistics Europe launched the Opera project and consulted the leading SaaS ERP providers. It chose the SAP/VISEO tandem and its SAP S/4HANA Public Cloud solution. This solution not only met the functional scope and ergonomics criteria expressed, but it also relieved Rail Logistics Europe of infrastructure management aspects thanks to its SaaS approach. It was above all the SAP Activate methodology that was one of the key reasons for this choice. "With the SAP Activate methodology, we had the promise of achieving our goal of rapidly deploying the solution over the given functional and geographic scope," Nicolas Bismuth explained.
Rail Logistics Europe looked to VISEO to implement this solution across its many sites for several reasons:
- Its knowledge of the SAP S/4HANA Public Cloud solution and the SAP Activate methodology;
- Its teams' commitment to meeting ambitious deployment targets;
- Its cloud-driven teams, meaning good practices were adopted for the solution;
- Its relations with SAP, which were essential for this type of project.
Stick as close as possible to the standards
To ensure the success of the Opera project, Rail Logistics Europe and VISEO had to apply several key principles:
- Working as a team: with 50 very independent and autonomous subsidiaries, it is essential to bring together consultants, decision-makers and key users within the same team. All this while being flexible, in order to adapt to the different specificities of these subsidiaries.
     
- Working in collaboration with SAP: with the cloud, you need to know how to interact with the editor, who provides the development and production environments. But also a CSM (Customer Success Manager), responsible for monitoring the smooth running of the project.
 
- Respect the Activate methodology: to succeed in the project, it is essential to respect the method provided, which provides guarantees in terms of speed of deployment, quality of deliverables and review of the various milestones by the CSM
 
- Adhere to standards: in cloud mode, it is important to rely on best practices and adhere to standards. For each process, Rail Logistics Europe relied on the most suitable SAP S/4HANA Public Cloud scope item.
A core model deployed at full speed
The main challenge for Rail Logistics Europe and VISEO was to define the core model of the Opera project. Between June and September 2018, about thirty workshops were conducted, in order to define common management rules on the functional scope of accounting, management control, purchasing and customer billing.
In just six months, with the help of the SAP Activate methodology and the Fit-to-Standard approach, this core model became a reality and was deployed on the Captrain France pilot site. "This was really a founding act of the project, explains Nicolas Bismuth. We demonstrated our ability to build a core model and to deploy it within a subsidiary over the entire target functional perimeter in just 6 months."
Once the core model was validated, the deployment of SAP S/4HANA Public Cloud was launched site by site. Today, 58 legal entities are deployed on Opera and new deployments within the subsidiaries Captrain Polska and Fret SNCF are planned in 2021. By the end of 2021, approximately 580 employees will be using the Opera tool.
"The initial promise, which was to be able to deploy quickly, has proved to be correct. The schedule we are following today is the one that was validated with the SAP / VISEO pair at the time of the specifications," confirms Nicolas Bismuth.
The beginning of a long adventure
The program is still new, but the overall feeling of the users is already quite positive. However, Rail Logistics Europe has had to learn to adapt to the world of the cloud. No longer systematically resorting to specific developments in order to comply with standards requires a review of each process, as well as support for the change in the business teams.
The quarterly SAP S/4HANA Public Cloud release upgrades also require adaptations. It is necessary to evaluate the new functionalities brought by each new version and to carry out tests before deployment, in order to identify possible regressions.
These quarterly updates, however, always result in more value for users. Rail Logistics Europe has already focused on dashboards and reporting through the use of SAP Analytics Cloud Embedded. The company is now looking to increase the functional scope of its ERP, in particular by evaluating the use of the innovations made available. It has even embarked on the adoption of other SAP cloud solutions such as Success Factors.
Rail Logistics Europe testimonial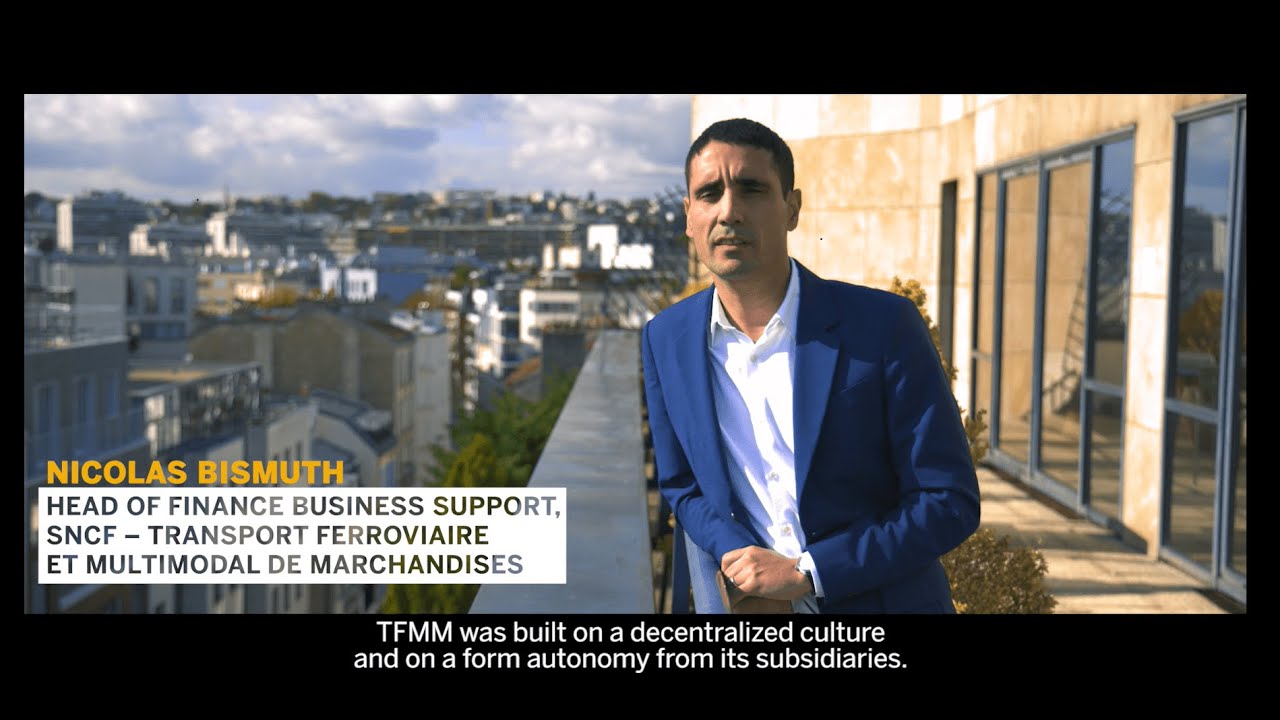 Nicolas Bismuth, Finance Project Manager at Rail Logistics Europe of the SNCF Group, talks about the SAP S/4HANA Public Cloud deployment project conducted with VISEO.